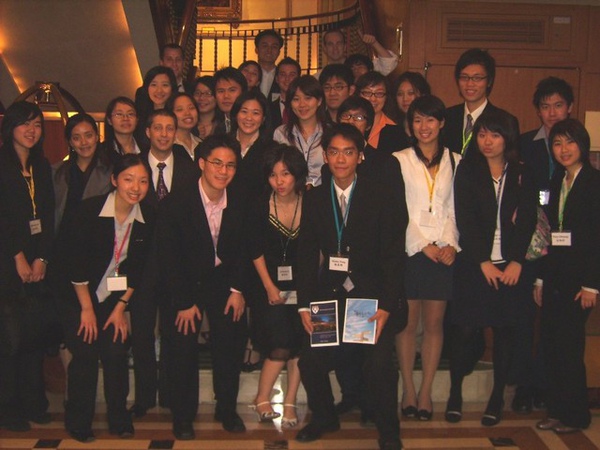 Interacting with Harvard students is a very special experience for me."
A special opportunity
As for the opportunity to meet those Harvard students, it can be traced to the beginning of March. One day, Catherine Lu, who is the chair of Harvard-NTU conference, told me that Harvard law school students will visit NTU on March, 29th. To know more Taiwan culture and interact with NTU students, they are going to hold a small seminar with us. What we need to do is country presentation. I thought it's very interested, so I promised her request.
Talking about our discussion and preparation, it's also an interesting memory. My teammates and I are responsible of Taiwan culture. As we know, Taiwan is an energetic and colorful island. There is a lot of different culture cultivated on it. How do we compress all into 5-min presentation? Indeed, it's a good question. After discussion, we chose five main topics, which are Baseball, Clothes, Movies, Food and Music. They are happened everywhere in our daily life. It should be a good way to introduce Taiwan to them.
We laughed.
I was very excited because this was my first time to meet Harvard students. I was a little curious about those people; especially friends form a far country. Who can enter Harvard University? What kind of specialty or characteristic do they have? Why they choose Taiwan to visit? Are they friendly? Too many questions came into my mind. "I will know all the answers soon" I talked to myself, and then slept.
Who are they?

On the afternoon of March 29th, the seminar between NTU and Harvard students began on time. At first, we presented three topics, Education, Culture and Economics, for them. In the short 15 minutes, speakers expressed our concepts with fluent English. Even I was very impressive of their presentation. Later, we had 25 minutes discussion time. Fifteen Harvard students divided into three groups directly and each group could only choose one topic. Therefore, some delegates joined our "Taiwan Culture" team.
"Who are they?" the question came to my mind again. I looked them and said "Welcome to our group!" What a formal opening! But it's a good way to shorten our invisible distance. Quickly, one delegate asked me a question first. "How do you think about Chinese movies?" The question was very sharp and direct. Specifically, they wanted to know our opinions on our own movies. To be honest, I seldom watch movies, not mention to Chinese movies. I knew there are many movies form Hollywood nowadays. Many Taiwanese like to watch them. However, why can't Chinese movies flourish like other foreign films? I think the key point is movie quality and public values.
In my point view, watching movies can make us more relaxing, so the audiences concern the quality and entertainment effect first. Foreign movies always use some high-tech process to create fancy scenes, such as Star Wars and the Ring. Secondly, many people are affected by social values. They think that foreign movies are always better than ours. For me, to know the value and meaning of movies is more important than to know how fancy it is. If you can catch director's heart, you will learn a lot form it. Finally, government, studio and audiences should support each other together. Through a good cycle, we can create a win-win situation.
Next, they proposed some easy and interesting questions. For example, who's the most famous singer here? Is American Pop music popular here? In my opinion, Jay might be the most popular singer in Taiwan. The important factor is that he adds Chinese culture elements into his own albums. Jay has ever said that "In the U.S, we should speak English, but in my country, please speak Chinese." It means that Chinese culture plays a decisive role in his mind. Another reason is that Taiwan is an island so it absorbs many unique and exotic elements. Those different cultures make Taiwan become a leader in Chinese music market.
The discussion time was a little short for us, but we still enjoyed the interaction with Harvard students. As a coordinator, my first priority was making our schedule smooth. I found that Harvard and NTU students are very talkative and erudite. Everyone can express his thoughts clearly with fluent English. Therefore, language barrier is not a problem here. Also, I observed that Harvard students were very interested in general topics, such as the above questions. It's really a good opportunity to know each other more.
We share, we communicate
It would be very regretful if we only can talk for 25 minutes. Thus, Harvard Asia Law students decided to dine us in a restaurant so that we can have more interactions. Among those Harvard students, half the members are Asian-looking people and almost three fourth people can speak Chinese. That's amazing! It shows that more and more people are interested in learning Chinese, especially experiencing Chinese culture. To be obvious, they chose a Chinese food restaurant.
On my right side seated Alex Crohn and on my left side seated Andrew Aqui. Andrew is my buddy so we have more opportunities to talk. He is from San Diego, California, and graduated from the University of California. He recently spent his winter term abroad working with the Visayan Forum, a Philippine NGO that does work to help domestic workers, victims of child trafficking, and other marginalized populations. I also worked for children in a non-government organization in Turkey, so I exchanged my experience with him.
He told me that his parents are from the Philippines, so he came back to grandparents' house and also did some volunteer work. I like his idea because I also have the same feeling. When I taught English to Turkish children, it seemed there is no gap among us. I can't forget their smiles and friendly greetings although we speak the different language. I also think such experience is good for a lawyer-to-be.
I've read a book called Darrow Autobiography. Clarence Darrow worked as defense counsel in many widely publicized trials. He was notable as a defender of the underdog and civil rights. I don't know lawyer, such kind of occupation, so much, but I believe that a lawyer must have justice and passion. They should fight for a reality and equitableness. Therefore, if they can understand those assignors' feeling, then they will know how to conquer the "war".
The core value of a lawyer
In addition to talking with Andrew and Alex, there were also three Harvard delegates in our table. They were Yi Guo, Florence Goal and Tina Chan. All of them can speak fluent Chinese. Florence is an overseas Taiwanese. She graduated from Rice University in 2004 with a degree in French Studies. I asked her a question during our conversation, "What's the core value of a lawyer?" "I'm not sure now but I am willing to help other people."
It's really an interesting answer. As an engineering student, what we know is how to attain the goal and develop the new technology. To be honest, our world is a little narrow. Sitting in front of a computer and writing codes quickly, we only concern how to solve problems step by step. This is so-called engineer training. However, in a real world, learning how to communicate with different people is also important. We shouldn't always stay in a virtual society, because we are human beings.
Helping each other is a good idea not only for lawyers but also for other people. As a famous Chinese proverb says, helping other people is a fundamental origin of happiness. We may don't have much effort to do it on the limit of time and money but we can remind ourselves everyday. You don't need to wait for some special occasions. Saying" Thank you" to bus driver is also a help. At least he can understand your appreciation and feel gratified, isn't it?
Harvard Asia Law Society
There are totally fifteen persons joined this visit tour. Andrew Chen, Hao, Stephen, Alonzo, Devon, Matthew, Lane, David, Ting, Libin are also Harvard law school student. Although we don't have much time to share and talk, I still feel some unique attributes from them. They are Harvard students but I don't see any arrogance upon them. It's just like normal friends. We can exchange our thoughts and express our opinions. No one will laugh you even if your idea is wrong. Everyone is an individual, a team member or a tourist. They respect each person's fundamental rights and very hospitable.
I like to hang out with them and show them the beauty of Taiwan. Treating foreign friends is an opportunity to know our own culture and theirs. Sometimes, you can also practice oral speaking ability and pronunciation. The probability of meeting a person is very small, not mention to meeting a foreign friend. After today, we don't know when and where to meet again. I'm an optimistic person. I always believe that the world is too small and we will meet again one day. It may be the U.S, Taiwan, or other countries. No matter where is it, I hope we can remember the special tour forever. Next time, I will tell you "Hey, you are the COOL Harvard students!"