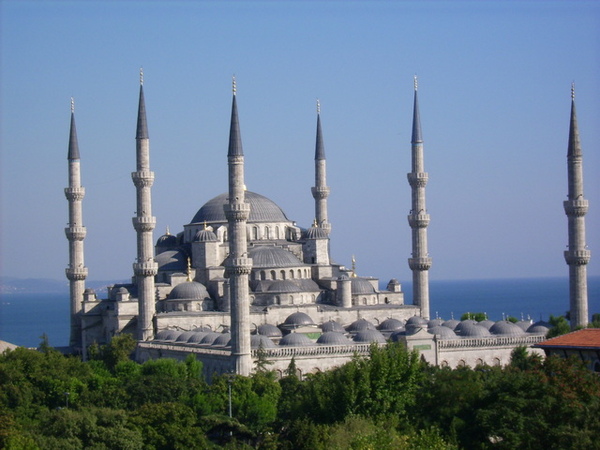 "I can't forget Turkey forever, since I entered the wonderful country."
In the May of 2006, I got an acceptance note from my Turkish manager. At that moment, I felt very excited. I can't imagine that I will go to Turkey, such a historical country in the world, soon. Therefore, I began to collect some related information and resource so that I can live in Turkey more comfortably and easily.
When I searched the key word, "Turkey", on the Internet, thousands of websites came into my sight, including culture, people, travel, food …etc. I read those articles and enjoyed those pictures as if I were in Turkey in the same time. Through those websites, I know where Turkey is and how people look like. To be honest, I didn't know anything about Turkey before. It's only the vague image for me. Some people asked me that now that you don't know such a place, how come you want to be there. I had no idea at that moment. It may be destined.
With the collection of some useful information and knowledge, I thought I knew Turkey little by little. It's located on the connection of Asia and Europe and also surrounded by Black Sea, Aegean Sea and Mediterranean Sea. The most historical city is Istanbul, where happened many stories before. The total population is almost 70 million people. Most of them are Muslims. That is, you can see many mosques everywhere. I also knew some interesting Turkish culture, such as the Turkish bath. The more I discovered, the more desirous I want to be there.
However, I still hesitated that if I have to go to Turkey. I knew there are many friendly people and beautiful scenery. I knew that would be a brand-new experience. I knew a lot of things, but I didn't know myself. I feared something unknown. I didn't know if I can handle the emergent incident. My heart jumped quickly. Therefore, I chatted with my friend who has been to many countries. He knew my situation and just told me a proverb, "The ultimate measure of a man is not where he stands in moments of comfort and convenience, but where he stands at times of challenge and controversy." That's true. If I can't keep this opportunity, I will not have this kind of grow.
In the beginning of July, I arrived at Turkey and started my traineeship. My work there is teaching English in the volunteer organization. The Educational Volunteers Foundation (TEGV) is one of the most foremost non-governmental organizations operating in the educational field in Turkey though volunteer participation. Since it's founding in 1995, TEGV has reached more than 400.000 children and young people (ages 7-16) in the nine years since its foundation in 1995, with the active support of over 10,000 volunteers, mainly aged 18 to 26.
I really like those kids. Those cute face and friendly smile are still in my mind. When I was in the school at the first day, I still couldn't believe that I am a teacher now. I took the 20-hours airplane from a far country to here. What I did is teaching English. It's really ridiculous. However, their smile and happiness recovered my homesick mood. I felt very relaxed day by day because of their kindness. They invited me to join some activities and travel with them. I had a lot of fun hanging out with them. The barrier among us disappeared within a couple of days. From then on, we are the real friends.
The range of my students' age is from 8 years old to 15 years old. It's a very wide scope. Thus, sometimes I have to play games with those children, and sometimes teach them some difficult vocabulary for those elder students. It's not too hard to design my class lecture. I prepared many useful and interesting topics for them. For instance, I taught them the name of different countries and some animals. I can't speak Turkish very well. Comparatively, they can't speak English very fluently. To solve the problem, I changed my teaching styles according to the students. If they can't understand my lessons today, I try to play games with them, such as the hanger, puzzle...etc. They liked those games so much. The winner can get my special souvenirs. It made them crazier.
Time flies like an arrow. It was the time to say goodbye. In the end of July, the school all closed. Those kids had wonderful summer vacation, too. I can't forget what I did in the final day. They held a very unusual party for me in the school. All the children took part in it together. They put on a Turkish play and danced together. This is what they learnt in the summer camp. I felt very comforted for their performance, especially their English. Many students can speak the fundamental English to me. Although their pronunciation was still uneasy to understand, they tried their best and expressed their appreciation. I was so touched in the scene. I told them that "I love you", too.
One month ago, I flied to Turkey, the strange country. I didn't know why I should be here. I was still hesitated to the decision. However, I know my answer at that moment. "You must understand the love never keeps a man from pursuing his Personal Legend because the love speak the language of world." The sentence is quoted form one famous book, the alchemist. I think I find my Personal Legend because of the wonderful traineeship in Turkey.