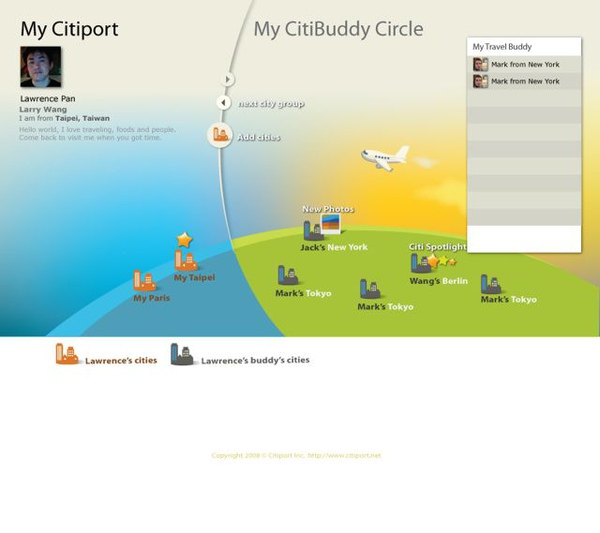 http://www.citiport.net/
Background
All of us are TRAVEL LOVERS. The old focus of travel is to call up a travel agency, fly from place A to place B, and have fun. Citiport is to bring forth the new concept of travelling, that is to experience local cultures, which is only made possible with interactions with locals. This is what the normal travel websites lack of.
Citiport has more: a more holistic view than the usual travel websites.
Why we have this idea?
Citiport is originated from a group of travel-maniac. We aim at creating a platform for talking about travelling in the perspective of culture, by gathering both "locals" and "travellers" who are located in different cities in the world.
From then on, travelling is something more. In your post-travel-memory, you would not only have Starbucks, McDonald's, Nike shops, and every other tourism sites with the same pattern. Your travel deserves to be MORE.
The Target Audience and Our Value

The target audience of Citiport are the travellers and locals all over the world. Each city in Citiport has its own personality. Youngsters can join Citiport, embrace the world and get to know the world.
Users' enjoyment is what we strive for. Therefore, apart from the innovated functions, Citiport will actively involve in the development of local tourism.
Main Features of Citiport

1. Localization
Citiport is the "Portal of Cities". The website is your entry to the cities, where the real side of the cities can be revealed.
Localization creates the sense of belonging among locals. They can then feel free to talk about their cities and their lives.
2. Internationalization
Internationalization is the main feature of Citiport, which is the direction of the website development.
Soon after Citiport was launched, people from more than 80 countries had been visiting the website in less than 3 months, contributing to writings on more than 50 countries. This is very motivating and we can see how important internationalized interactions are. We envision that the next milestone of Citiport is the ultimate realization of such interactions.
3. A Collaboration of Creation
Providing travelling information is the main function of Citiport. Being inspired by Wikipedia, we have created an interface allowing self-editing by all users. Every Citiport user can add new items for the cities, and comment on every articles.
Articles from public websites and personal blogs can also be posted on Citiport. You will see how Citiport is closely linked with daily lives. Both locals and travellers can experience the fun and usefulness of Citiport.
4. Personalization and Social Network
We understand travelling is very much a personalized activity. Just like different people sees Paris in trillions of ways. Through the function "My Citiport", users can create their cities. They can also subscribe to the other cities created by their buddies. This is how a social network is built.
5. Multi-languages
Everytime a travel article is written, it is automatically translated into other languages. It is very user-friendly as users can use their mother languages in Citiport, and can be understood by most languages speaking world. Though computer translation may consist minor grammatical mistakes that are to be amended by other users, this function of multi-languages can help to break the language barrier for global interactions.