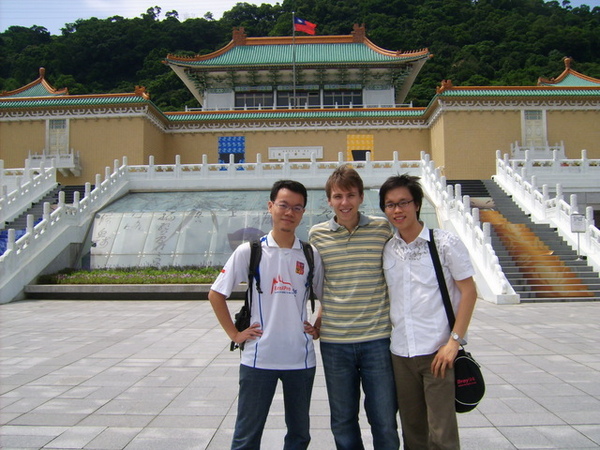 Where is Czech Republic? I think some Taiwanese will ask me this question. Czech is a country located in eastern Europe. If my guess is correct, Czech Republic had diplomatic relations with Taiwan before. Therefore, maybe some people know its name.
On the middle among us is Jaroslav, who met in Istanbul. He belonged to AIESEC Prague and had been a ceeder(AIESEC noun) in Turkey.He was our dormmate, so we know each other very well. I still remember many things happened in Turkey. Because our periods are almost the same, we joined many activities together, such as Nagiele(Waterpie), club, and meeting.
The left person on the picture is another Taiwanese trainee, Elmo. We went to Istanbul for traineeship at the same time. He knows some Turkish. Maybe I should say "many", at least he can communicate with local people. He is a very special guy, especially his long travel story in eastern Turkey.
When I met Jaroslav last week at first, he told me "Hey man! Why do you change so much?" "Really!?" To be honest, I don't know where I changed. Maybe we don't see each other for a long time. After talking for a while, he asked me " Why do your English improve a lot?" "......" I don't know how to reply him, so I said "Time makes people old" But I'm very happy at that time.
I still remember the scene happened in Turkey. I joined a international conference in Istanbul. There were many delegates from European countries. I faced a very frustrated problem, "No one understand my English with strong Taiwanese accent." Similarly, I don't understand European accents. This is my first time to hear many "different" Englsih. But this is not the excuse. I told myself at that time that I have to pratice my oral skills and to pronunciate the standard English.
One year pasted,I don't know if I attain my goal. But I do my best. It's very glad to meet old friends again, especially the friend from very far place. I think the world is too small and it's also a global village. We are sure that we will meet again. Next time, it would be prague or other cities. Who knows