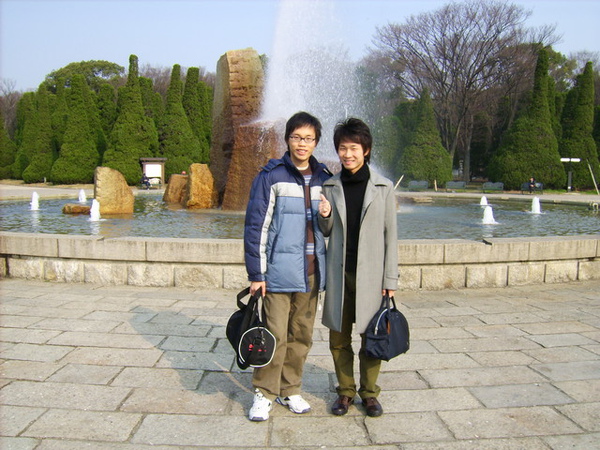 I traveled around Osaka and Kobe at my fifth day. There were totally different places. Osaka is the second biggest city in Japan, which is famous for the modern buildings and economy. Kobe is a harbor city where you can find much exotic culture. I like the two cities because they give me a different impression of Japan. Compared to Kyoto, I think they are closer to our real life. I never see such a complicated transportation system in my life. That's another special experience for me.
The eleventh person I met is Eiji. I met him in Taiwan, too. We chatted with each other a lot when traveled in Taiwan. That's why I want to meet him again. I also appreciate his help and accommodation so that I don't need to live alone outside. He's going to graduate from Kyoto University this year and has already found a good job in a chemistry company. Although he had to do the experiment in school, he still showed me the beautiful scenery of Osaka, especially the Osaka Castle. I really enjoyed the time went out with him.
When we were going to leave the Osaka Castle, I met a familiar person. What a coincidence! She is Heng-Ting from China. We first met each other in Kiyomizu temple two days ago. She traveled with her Chinese friends from different universities. The reason why we started to talk is because we spoke the same language at that time. I told them the meaning of "Love road", so I had a little impression. When we met again in Osaka, we all felt very happy and surprised. I think it's a very low probability for two foreigners to meet each other two times in different places. Therefore, we exchanged our contacting ways. I believe that we will have this coincidence one day.