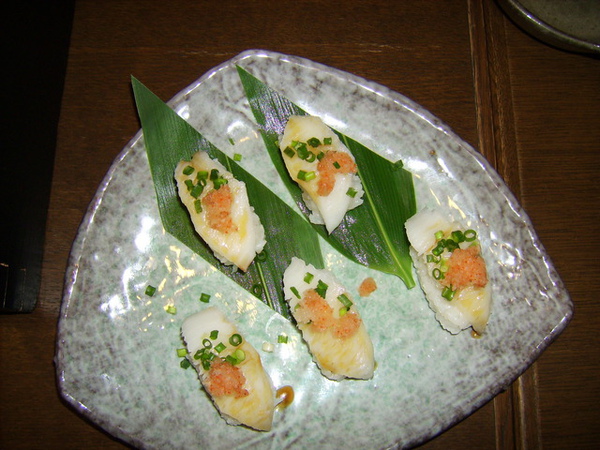 At night, we came back to Osaka JR station. The fourteenth person I met is Miki. She is a student in Osaka University, too. I met her in Taiwan three years ago, because she joined an international conference here. She is a very cute girl with quick speaking speed. But I try to speak Japanese with her this time. It seems that she slowed down her speed so that I can understand her meanings. We went to a department store first. I wanted to buy a Doraemon toys for my little cousins. Of course she would be the best "tour guide."
After hanging around the near district, we went to eat dinner together. They showed me the modern Japanese way of treating guests. It's so-called Yakiniku, which is similar to Bar-B-Q. You can order many kind of food following on your favorites. Shoji and Miki asked me to order any food, but I don't know how to order them. There was so much different food. Here came my saying again, "Traditional food is better than other." Two hours later, there were only many plates on the table. I can't forget such a delicious food. It's my last and the most "Oisii" food.
We talked a lot of good memories together. Three years ago, we were only students, but now we are going to graduate from school. We all grew and improved a lot. Although we are in different countries, we still have a common dream. They told me that earning money is not the most important thing for them. If they have time, they would like to help other people and give service to those who need. I support this idea very much. As a global village resident, you shouldn't care yourself merely. I believe that world peace is not only a dream but also a practical way. If we concern other people and put into practice, they will return us a warm hug. The problem among the world is mainly caused by misunderstanding. Try to know other people and culture, then you will find the beauty of humanity.